CHORUS AND BAND MEMBERS!

Dear Chorus Members,

An important reminder that the Thursday we get back from vacation (March 2) there is a MANDATORY chorus rehearsal 4:30-6:30. This is the ONLY time we will EVER get to rehearse with the pianist who will be playing with us for our performance in Disney, so it's imperative that everyone is there. Please do not be late. We will be starting right at 4:30 in the band room.
No cell phones. Please eat before you come. Feel free to bring a bottle of water!
After the rehearsal, there is a 30 min. break, then the mandatory parent/student final trip meeting at 7pm.

Dear Band AND Chorus Members,

March 2, 7pm is the final trip meeting. Mandatory for parents and students going on the trip! This is incredibly important as well! We'll be going over airport information, what to bring, how the very early morning will look the day we leave, what's in what park/where to head, etc. and all last minute details.
Intend to arrive at least 15-20 min. early to check in and get your info packets
Thanks!
Mrs. B
SUMMER MUSIC CAMP – MAYNARD
Assabet Valley Summer Music 2017

Please click on the above link for information packet. Thanks!
JAZZ JAMS!
At the Pleasant Cafe, 36 Main Street – Maynard
Blueprint Jazz Club every Sunday 4-6PM
Starting March 5th
All ages are welcome to jam!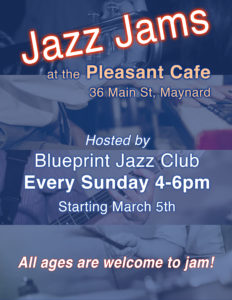 JUNIOR DISTRICT INFORMATION – Congratulations!

Jan. 28th were the Jr. District auditions and we have 4 8th grade instrumentalists that made the group!  They are Ari Kiirikki, Lilly Weber, Hazelyn Aroian, and Tommy Fallon.  One received a near perfect score and it looks like we'll have 3 of 9 flutes in the band from our little school and one French horn. Out of over 70 schools!!  We've never had more than 1 flute make it at a time as it's exceedingly difficult and competitive.  I can't say enough about these students' work ethics and talent!
– Mrs. Blanchard
JAZZ CAFE, NEW DATE:
April 2 – Jazz Cafe (Jazz) – 6:00-8:00PM

SCHOLARSHIP COMMITTEE:
Parents from Fowler (without a student at the High School) are needed to serve as readers.  Please contact Bonnie at:  maynard.music.assoc@gmail.com

DONATIONS – KATHERINE LALLI SCHOLARSHIP:
Please make checks payable to "Town of Maynard." Include "Katherine K. Lalli Memorial Scholarship" on the memo line.
Please mail donations to:
Maynard High School
Katherine K. Lalli Memorial Scholarship
1 Tiger Drive
Maynard, MA 01754
ADVOCACY:
Parents are needed to attend the remaining school committee meetings for word on budget cuts, advocacy needs for music feedback on the successes of the music program.

2017
January 19
February 2, 16
March 2, 16
April 13, 27
May 11, 25
June 8
BENEFITS YOUR BRAIN:
Thought this was a great short Ted Ed on brain function and playing an instrument. We've all known for years that students who study music tend to score better on SAT's and other high stakes tests and tend to do better in school in general. (As you know, I've been compiling this data for the HS band students for 20 yrs. now and every year, the students in band score an average of 75+ pts. higher than the state average on the SAT's).  This is an interesting short on some neuro-studies that are proving this scientifically.
Hope you enjoy it!
Cindy
http://ed.ted.com/lessons/how-playing-an-instrument-benefits-your-brain-anita-collins
MMA UPDATE:
Fowler MMA Co-chairs & Secretary needed. HS music banquet coordinator and Website Manager needed!
We are in need of a Secretary and two co-chairs for the Fowler to keep up support of music at this level. Please consider giving an hour or so once a month to advocate for the needs of this program if your child is in the band at Fowler!
Please contact Bonnie at maynard.music.assoc@gmail.com to learn more!
We need a handful of music parents from grades 9-11 to coordinate the annual music banquet held on Memorial Day at 5:30 pm. There are big and small jobs to be done but presently we have one volunteer. Many hands make light work and planning should begin in January!
Please contact Bonnie at maynard.music.assoc@gmail.com to learn more!
CASINO NIGHT SUCCESS!
Congratulations to Bonnie Wilson, Chairperson for Casino night, and all the wonderful volunteers that helped make Casino Night a great success. $13, 900.93 was raised that night, which will be split between both schools.  THANK YOU AGAIN to all!
SENIOR DISTRICT INFORMATION – Congratulations!
Thirteen students practiced some very difficult music in hopes of auditioning and making Sr. Districts in music and seven were accepted!  This is a very large number and all received high scores.   Three of the students received such a high score, they will be auditioning in January for All-States.  The students are all singers this year:  Adam Berry, Karima Haddouch, Alyssa Ray, Dante Naylor, Zoe Pepin, Lucas Pepin, and Charlie Neuhauser.  Adam, Karima and Lucas are the ones that will also be auditioning for All-State.  Please give them a high five if you see them 🙂