DISNEY!
From Michele H:  Below is a link to my YouTube channel with all of the Disney performance videos. You all should be EXTREMELY proud of your musicians! They were absolutely wonderful. Enjoy!!
________________________________________________________________________________________________
Hello Music Families,
Thanks for reading our post from 10 days ago. Since that time, we attended the April 13th school committee meeting, spoke to advocate for music education in Maynard and learned more about the proposed reductions that would meet the updated $651,000 shortfall.
Below you will find the update and at the bottom what would be helpful for you to do now to advocate for music in Maynard.
What we learned: As compared to the previous email's cut suggestion from Fowler, the update that was listed on the reduction sheet now reads: "reduce 1.0 FTE at Fowler to .6 FTE at Fowler" with the Impact statement: "Eliminate small group instrumental instruction during the school day."
Nutshell: Possibility of no small group instrument instruction, especially for 4th and 5th and loss of 4th and 5th grade band during the day with perhaps loss of grade level band instruction. While I believe that our School Committee and administration would like to avoid further cuts to music, this direct reduction has the effect of deteriorating and dismantling the larger K-12 program by reducing instruction right in the middle of the continuum of learning.
What does this look like for teachers?
Well, With 8th grade moving back to Fowler, approximately 120 students plus new 4th graders will need to receive music education.
• This reduction does not allow for Fowler Band leader to cover small group instruction or possibly band at each level
• Total music department (k-12) will be teaching the equivalent of 2 full time and one .4 position – unknown who will do what
• Teachers not being able to fully deliver music education due to reduced time,
• Currently the Fowler band teacher fits small group instruction where he can, likely beyond his contract hours as it was not formally in the schedule for this year.
• Uncertainty over who would teach small group lessons – band leader, private instructors? Time before or after school is not included in the full time position.
What "Eliminate small group instrumental instruction during the school day." means to our students:
• Elimination of some band groupings: 4th? our beginners? o5 5th? Still novices? Will the 4 day rotation prohibit regular band? Will 6-8 band be eliminated?
• Reality: small group instruction at the Fowler for our earliest learners is what teaches them how to handle, care for and play their instruments for the very first time and is where they begin to go from squeaks to reading music, understanding finger positions and adjusting to mouthpieces.
• Without small group instruction, students become more frustrated and stop playing
• Without small group instruction during the day, another curricular piece might be suggested to move to the beginning or end of the day but for a cost to families
• Cuts to any instruction during the school day limits access to students who cannot arrive early, stay late, or afford private individual or small group instruction.
• Our list of private instructors is small and they may not be interested in small group instruction, especially with beginners.
• Recess policy has changed preventing instrument groups from meeting once or twice a week during recess.
At the School Committee meeting, the District recognized that our music program as a long standing source of pride in Maynard. Here's why….
• 4th and 5th grade participation is growing with numbers approaching 50 in each grade
• Fowler choral offerings in the last 5 years has strengthened the program at MHS
• more and more students auditioning for Central District Concert placement in grades 7-12
• an increasing number of band and choral students nominated for All-State recommendations
• Awarded presence for Fowler and MHS (band/chorus) at Great East Festivals
• Interest in Jazz Bands and Wind Ensembles (MHS) and Stage Band (Fowler) is growing.
• Performance opportunities for Jazz Bands, Wind Ensemble, Madrigals and a Capella in the Maynard community and within the state
• Performance opportunities at the MA State House
• Involvement in the community at football games, parades and local events like Sip n' Stroll and Maynard Art Walk and the Farmer's Market .
• students from Maynard attending weekend orchestras to enrich learning
• students from Maynard seeking higher education upon graduation in Arts and Music (education, performance, choral, voice)
• Programs like ours build over time and success in Fowler breeds success in upper grades at MHS
• Strong parent group with advocacy for the students and their music education
What you can do to help:
• Attend the School Committee meeting this Thursday at 7pm at the Fowler Library to hear about proposed cuts and ask questions
• Attend the joint Board of Selectmen Meeting/School Committee meeting at Fowler Auditorium this TUESDAY and the remaining School Committee meetings that precede the town election and the annual Town Meeting 5/15
.April 25, 2017 JOINT BOS/SC mtg 7:00 pm
April 27, 2017 Fowler School Library 7:00 p.m.
May 11, 2017 Fowler School Library 7:00 p.m.
May 25, 2017 Fowler School Library 7:00 p.m.
June 8, 2017 Fowler School Library 7:00 p.m
• Ask your children how they benefit from music education, what they love about what they have learned at each level.
• Write to the Superintendent and Assistant Superintendent about your child's experiences with the music and choral programs at all levels and what you would like to see maintained for K-12.
• Write to our School Committee representatives about the proposed cuts to music for our district if you are not able to make meetings
• Go to Maynard Music Facebook page and read the article, "Keeping Time: Music Is a Core Subject" by Wynton Marsalis, published by Edutopia. A great read that speaks to the value of a program that should grow, not be dismantled.
What you can do TODAY at the state level to potentially increase funding (This takes 3 minutes!!!):
• The School Committee asked that we all go to the link shown below to tell our legislators to implement the Foundation Budget Review Commission recommendations/revisions in an effort to review the way the budgets are calculated in the face of increasing education costs.
• The link provides a letter to our MA representatives that can be modified as needed.
• LINK TO LETTER
The information below is from the final report from the Foundation Budget Review Commission in 2015 that explains the commission and the Foundation Budget.
"The Foundation Budget Review Commission (Commission) to "determine the educational programs and services necessary to achieve the commonwealth's educational goals" and to "review the way foundation budgets are calculated and to make recommendations for potential changes in those calculations as the commission deems appropriate." In conducting such review, the Commission was charged with determining "the educational programs and services necessary to achieve the commonwealth's educational goals and to prepare students to achieve passing scores on the Massachusetts Comprehensive Assessment System examinations." The statute also directed the Commission to "determine and recommend measures to promote the adoption of ways in which resources can be most effectively utilized and consider various models of efficient and effective resource allocation."
"The Education Reform Act of 1993 established the foundation budget to ensure adequate funding for all students in Massachusetts. Since then, some of the assumptions contained in the formula for calculating the foundation budget have become outdated. In particular, the actual costs of health insurance and special education have far surpassed the assumptions built into the formula for calculating the foundation budget.1 As a result, those costs have significantly reduced the resources available to support other key investments. In addition, the added amounts intended to provide services to ELL and low-income students are less than needed to fully provide the level of intervention and support needed to ensure the academic and social-emotional success of these populations, or to allow the school districts serving them to fund the best practices that have been found successful."
Our thanks for your help!
Maynard Music
SUMMER MUSIC CAMP – MAYNARD
Assabet Valley Summer Music 2017

Please click on the above link for information packet. Thanks!
JAZZ JAMS!
At the Pleasant Cafe, 36 Main Street – Maynard
Blueprint Jazz Club every Sunday 4-6PM
Starting March 5th
All ages are welcome to jam!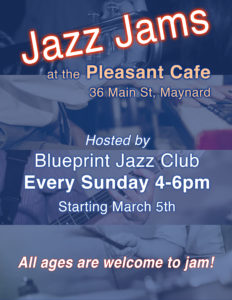 SCHOLARSHIP COMMITTEE:
Parents from Fowler (without a student at the High School) are needed to serve as readers.  Please contact Bonnie at:  maynard.music.assoc@gmail.com

DONATIONS – KATHERINE LALLI SCHOLARSHIP:
Please make checks payable to "Town of Maynard." Include "Katherine K. Lalli Memorial Scholarship" on the memo line.
Please mail donations to:
Maynard High School
Katherine K. Lalli Memorial Scholarship
1 Tiger Drive
Maynard, MA 01754
ADVOCACY:
Parents are needed to attend the remaining school committee meetings for word on budget cuts, advocacy needs for music feedback on the successes of the music program.

2017
January 19
February 2, 16
March 2, 16
April 13, 27
May 11, 25
June 8
MMA UPDATE:
Fowler MMA Co-chairs & Secretary needed. HS music banquet coordinator and Website Manager needed!
We are in need of a Secretary and two co-chairs for the Fowler to keep up support of music at this level. Please consider giving an hour or so once a month to advocate for the needs of this program if your child is in the band at Fowler!
Please contact Bonnie at maynard.music.assoc@gmail.com to learn more!
We need a handful of music parents from grades 9-11 to coordinate the annual music banquet held on Memorial Day at 5:30 pm. There are big and small jobs to be done but presently we have one volunteer. Many hands make light work and planning should begin in January!
Please contact Bonnie at maynard.music.assoc@gmail.com to learn more!